Performing a hard reset on the Samsung Galaxy A14 5G involves resetting the device to its factory settings. If you've forgotten the lock screen password, PIN, or pattern, and you need to perform a hard reset, here's a more detailed step-by-step guide:
Note: Before proceeding, be aware that a hard reset will erase all data on your device. Ensure that you have backed up important data if possible.
Method: Using Hardware Buttons
1. Power Off the Device: Make sure your Samsung Galaxy A14 5G is powered off.
2. Press and Hold Buttons: Press and hold the Volume Up button and the Power button simultaneously.
3. Release Buttons: Release both buttons when the Samsung logo appears on the screen.
4. Access Recovery Mode: You should now enter the device's Recovery Mode. You'll see a menu with options.
5. Navigate to "Wipe Data/Factory Reset": Use the Volume Up and Volume Down buttons to navigate through the options.
Look for an option that says "Wipe data/factory reset" or something similar.
6. Select the Option: Once "Wipe data/factory reset" is highlighted, press the Power button to select it.
7. Confirm the Action: You will likely be prompted to confirm your choice. Use the volume buttons to navigate to "Yes" and press the Power button to confirm.
8. Complete the Process: The device will now begin the factory reset process. This may take a few minutes.
9. Reboot the System: After the reset is complete, you should see an option to "Reboot system now." Select it using the Power button.
Your Samsung Galaxy A14 5G will restart with factory settings restored. The lock screen security should be removed, but keep in mind that all data on the device will be deleted.
How to bypass it? Ok After the reset you will see the start menu so click this button. Then select agree to all optional. Then you have to connect a WIFI on your mobile. It takes some time to check for updates. If you are stuck on this page that means your phone has Google lock.
Let's go to Bypass it
1.Back to Emergency call option and dial *#0*# it takes you to a page like this.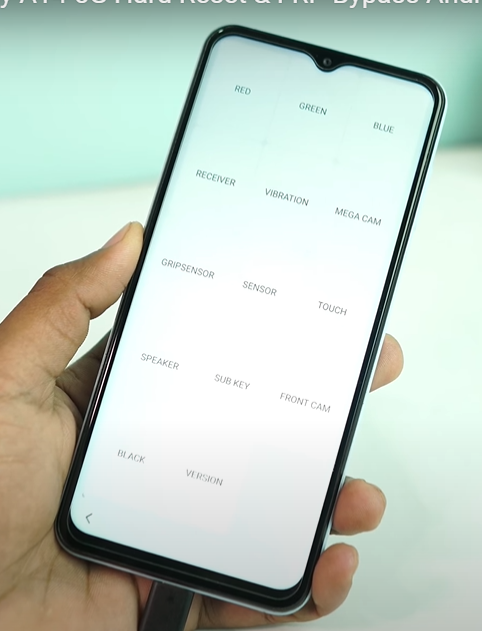 2. Now connect a USB cable to your phone and computer.
3. Go to the computer screen open this link and open the samFWFRP tool.
4. Click the information button to check whether your device is connected or not. After connecting remove FRP(Aug 2022 security). when you click it you will see a popup menu hit ok.
5. After some time you will see a popup on your phone just allow it and it will successfully remove your FRP. Ok, it's done now set up your phone.
Okay, this process is so easy just cool down and try. If you are unable to do this then here is my YouTube video tutorial See this video properly and I think you can do this.
Thanks.